We just returned from a one-week trip to the Bahamas, as part of a group of 9 aircraft that all left from DC/Northern VA airports. We all met up at Ft. Pierce, FL for an overnight, and then launched to New Bight airport (MYCB) on Cat Island to stay at the Fernandez Bay Village resort -- one of the "out islands" where there are very few tourists and no cruise ships. The trip was organized by one of our local VA flight schools (Aviation Adventures) and they managed to get AOPA to send a reporter and photographer along to document the trip for a future issue of AOPA Pilot magazine.
On the way down to FL (near Jacksonville) we encountered moderate rime icing at 14,000 feet and had to ask for higher to climb out of the clouds. Who'd of thought we'd have to deal with icing in Florida?
While staying on Cat Island for the week we flew as a group over to Staniel Cay (MYES) for the day to rent boats to visit the grotto where the 007 James Bond Thunderball movie scenes were filmed and to visit/feed the wild pigs on a nearby island. On another day we all flew over to San Salvador (MYSM) to tour the Island and visit the spot where Columbus first landed in the New World. We returned to MYCB via Stella Maris (MYLS) on Long Island to get JetA fuel for our DA42. Our plane (with air conditioning) was awesome for Bahamas island hopping, and it took only 2 hours of flight time to get from Ft. Pierce, FL to Cat Island.
For our return flight from Ft. Pierce, FL back to the DC/northern VA area yesterday, we flew our DA42-VI non-stop in less than 4 hours while cruising at 15,000 feet: 180 knots TAS at 75% power. However with a 25 knot tailwind component we saw about 206-207 knots over the ground for most of the flight. While flying over Jacksonville, we were so fast that an ATC controller asked "What kind of Diamond Twinstar are you flying? Is it special or something?"
Here's a video of our short-field takeoff from Staniel Cay to get off in 1500 feet:
http://www.youtube.com/watch?v=hhIBxS4V74A
Here I am grinning just before the takeoff at Staniel Cay: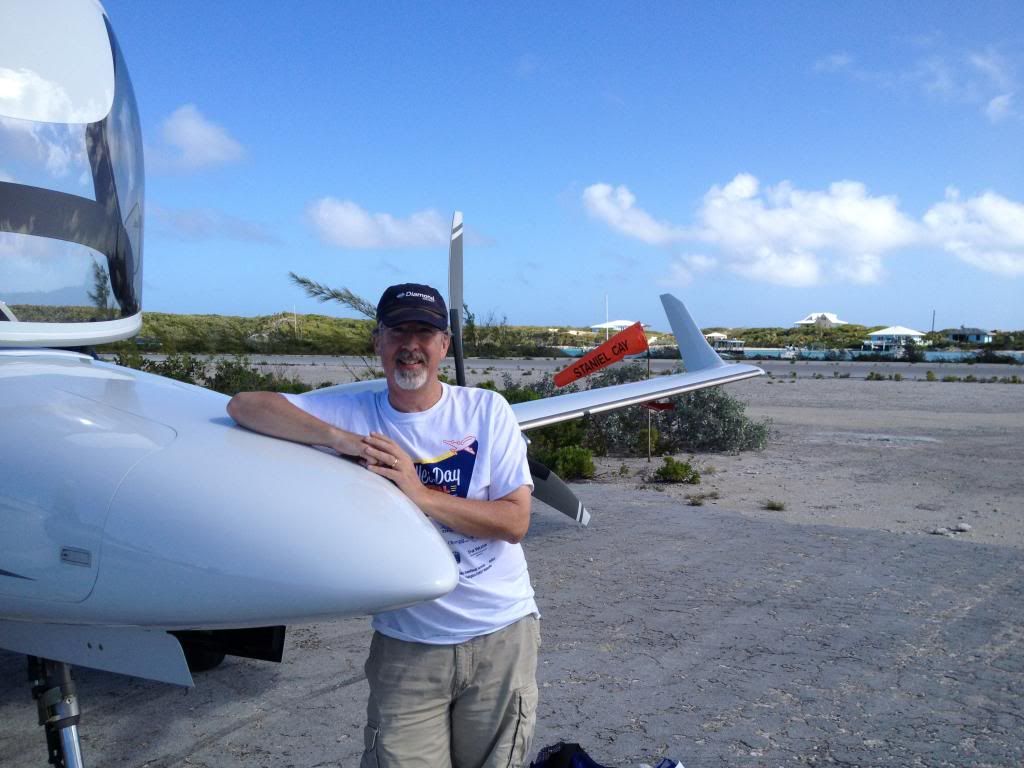 Looking back at Staniel Cay right after the takeoff:
Cat Island Fernandez Bay where we stayed for a week; in the top center you can see the runway where we landed shortly after this photo was taken: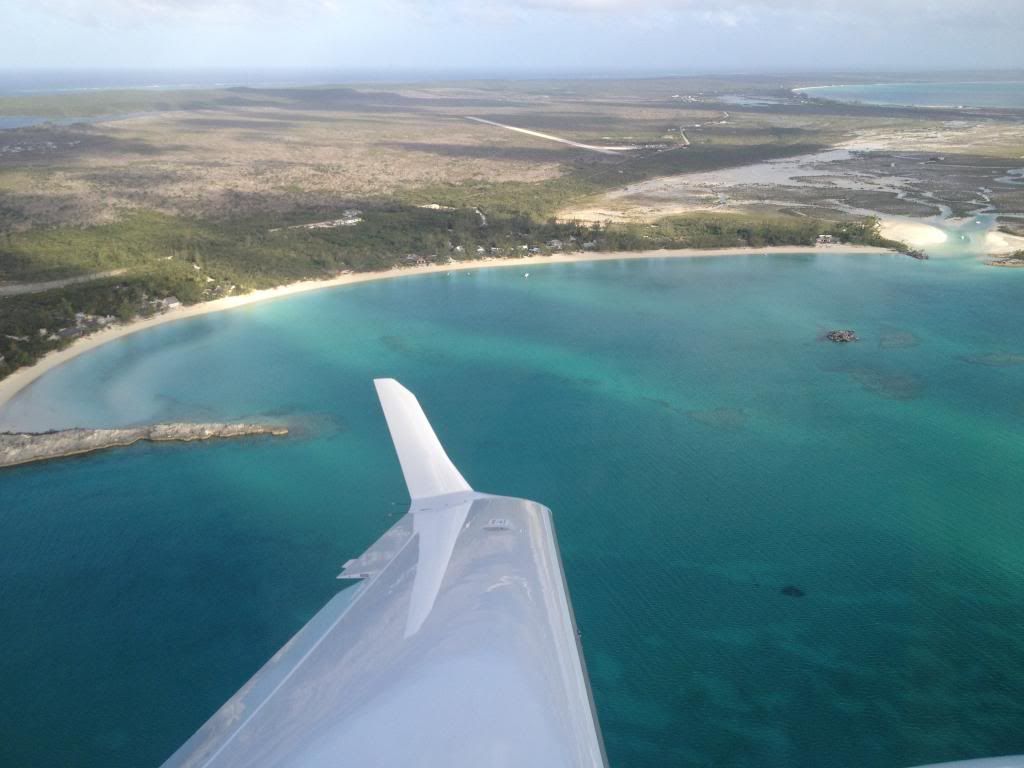 Approaching the southern end of Eleuthera Island on our return trip to FL: