Background:
Last December (2012) we (my pilot wife and I) put down a deposit on a brand new DA42 "dash six" model. As most of you know, Diamond currently produces DA42s only in its Wiener Neustadt, Austria factory about 30 miles south of Vienna.
For awhile Diamond was also producing DA42s in the London, Ontario, Canada factory back when they had a huge order backlog for hundreds of DA42s. Back then major components (painted fuselages, wings, etc.) were being sent in "kit" form from Austria, with final assembly being performed in Canada for North American customers.
But after the recession hit around 2008 -- and with the switch from Thielert to Austro engines -- Diamond stopped producing new DA42s in Canada except for a small number of avgas Lycoming-powered DA42-L360 aircraft. So if we were to get a new DA42-VI, the aircraft would have to be produced in Austria and ferried to North America.
A further complication was that some of the equipment we were accustomed to having in our previous 2008 DA40 XLS was not available for the DA42-VI. This included the Amsafe seatbelt airbags, and the Garmin GDL69A XM satellite weather unit. I learned that the Sirius XM satellite signal footprint only covers North America, so it makes sense that Diamond doesn't offer the GDL69A for European-produced aircraft.
Another development was that while waiting 6 months for our plane to be built, we learned that Diamond would soon start offering a revised "Premium" interior replacing the previous "Platinium" interior for the DA42. The biggest difference is new seats modeled after the new improved seats of the DA40 XLT model currently being built in Canada, incorporating ICT (Infrared Controlled Technology) leather that's supposed to be 20degC cooler in direct sunlight. They're also much more comfortable (e.g., not as hard) as the original DA42 leather seats.
Prototype DA42 Premium seats were produced in Canada for Christian Dries' (Diamond CEO and owner) personal DA42-VI and shipped to Austria for installation. They differ from the DA40 XLT seats in that they recline and have built-in lumbar support. Here's a photo of Christian's aircraft interior with the new seats: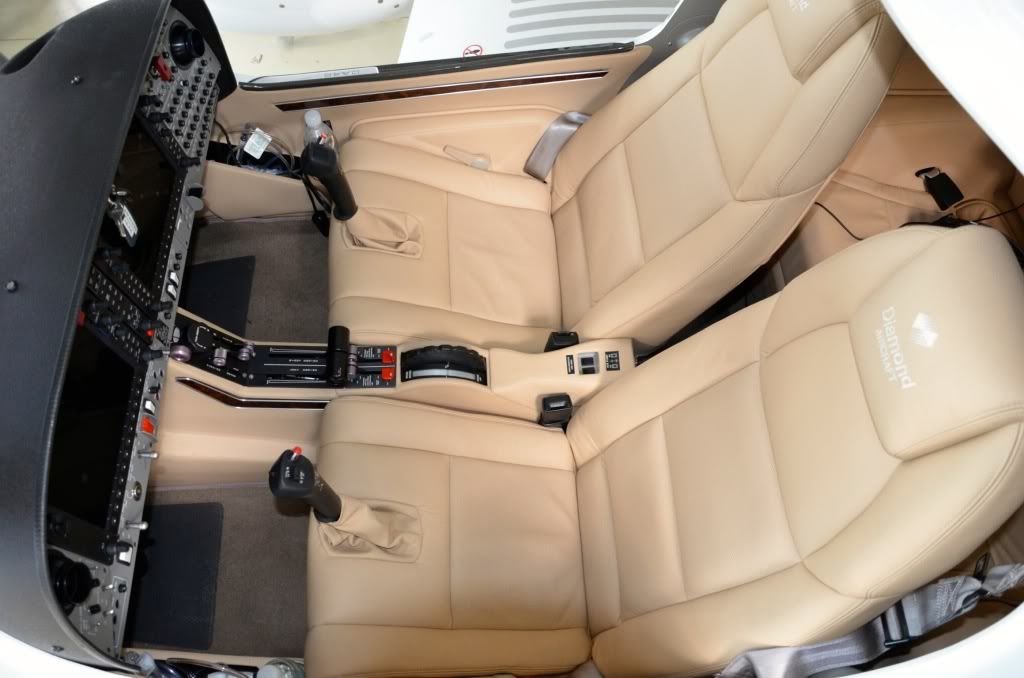 So our choice was either to wait an additional 12 weeks (in addition to the 6 months we were already waiting) for our aircraft to be produced with the new seats sourced by Diamond from European suppliers, or ferry the aircraft across the Atlantic and then have new seats retrofitted to our aircraft in Canada.
All this is a long way of explaining why the ferry flight wasn't to our home airport in Virginia, but instead from the Diamond factory in Austria to the Diamond factory in Canada. After its ferry flight our aircraft would have to spend a few weeks at Diamond in Canada for installation of the Amsafe seat belts, Garmin GDL69A, and the new seats (which would actually be our original seats removed and rebuilt on the original frames by RM Classic Cars in Blenheim, Ontario -- that's how the prototype seats for Christian Dries' aircraft were also created).